GIVEAWAY PARTICIPATION
I'm participating in a giveaway at Lisa's Learning is Something to Treasure blog! Click the picture below to be linked to her giveaway - you could win a $10.00 Target gift card from me, and many other fabulous prizes! What are you waiting for? Go, now!
So, we're not doing Tried It Tuesday today - instead, that will be Thursday! Things popped up today (broken windshield getting fixed, broken iPhone 4S screen getting fixed... notice a GLASS theme here???) so instead, I'm packing!
I really don't have anything to update y'all with except that
I'M OVER 100 FOLLOWERS!!!
Never in a million years did I think I'd make it to this number in such a short time. Thank you to everyone that follows me. I will eventually be making my own documents (once I learn how and get the time) and will be doing a GIVEAWAY!!! Yayyyy! SO, if you are interested in helping me with my giveaway, please e-mail me at
ventrellasara@gmail.com
.
I'd totally appreciate it!! (The giveaway won't be until AFTER my vacation... I need a break!!)
Thank you, thank you, thank you!!
One more thing, I was nominated by Candace at
005 Watkins' Way
for the Liebster Award! Candace, you are such a sweet woman!! Thank you so much for this!! This award is given away to highlight those blogs with
less than 200 followers
on their blogs. I'm happy that Candace chose myself as one of those blogs!
There are rules to this award, though, so here they are:
1. Copy and paste this award on your blog.
2. Thank the giver and link back to them.
3. Reveal 5 other bloggers and comment on their blogs.
So, here's my five bloggers that I'm nominating!
Katie & Lisen @ Second Grade Smartypants

Ms. Walter @ Hoot Hoot Hooray!
Sara @ Miss Elementary
Kate @ EduKate and Inspire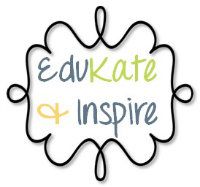 Cassandra @ Adventures in Room 5
Stop by these amazing blogs and say hello - they're all super friendly ladies that are willing to help anyone :]
Giveaways UPDATE
Going to be a GREAT giveaway!! At Mrs. Sykes' blog, she's doing a one year bloggiversary giveaway! Stop on by and enter yourself into this great drawing - there are SO many nice things up for grabs! Click the picture below :]
There's also one at Elisabeth's blog! Stop on by and check it out. You will NOT want to miss it :]
Have a good day, y'all!