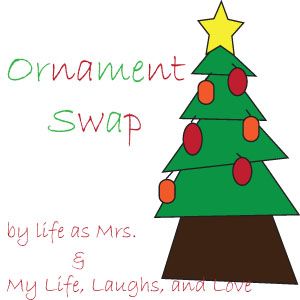 So, I participated in an ornament swap hosted by Rachel from
Life as Mrs.
and Christina from
My Life, Laughs, & Loves
.
I got paired up with the fantastic Esther from
Esther Norine Designs
. She one SWEET woman and is very caring. She's also absolutely gorgeous! I requested something that dealt with the fact that Cody and I are having our first Christmas together for real or something red because I like red. Well, Esther did AMAZING at choosing something out!!
She got me a new home ornament that's red!! How perfect is that?? I cannot wait to put it on our brand new tree in our brand new house. It's going to look so beautiful!
But not only did she get me an ornament, she also knitted a scarf for me! I love the colors and I actually wore it for the first time the other night out in the cold. It's beautiful and warm and just perfect.
Esther, you did an AMAZING job at picking out an ornament for me. The scarf was an added bonus! Thank you so, so much for everything and I am so happy I was paired up with you. You're an amazing woman and I cannot thank you enough!
Have a good day, y'all!