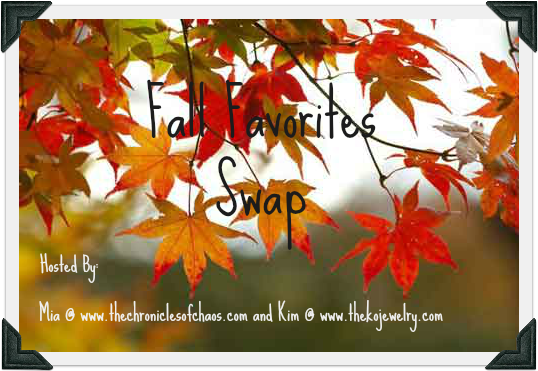 Guess whaaaaaaat? It's time to link up for the Fall Favorites Swap hosted Mia from The Chronicles of Chaos and Kim at The K.O. Jewelry! I was partnered up with Kelly from
Messy.Dirty.Hair
.
Kelly was an AMAZING swap partner. She really knew me and what I liked! I'm really happy to have been paired with her. Below is what she got me. I LOVE IT ALL.
Confetti Nail Polish
Snowflake & Peace glittery ornaments
Christmas cards
Fall themed towel & oven mitt - perfect for our new house!!
Kelly - thank you SOOOO much for everything! I truly appreciate it and am so happy I was paired up with you.
Don't forget about the giveaway & the Advent Calendar Swap sign ups!
Have a good day, y'all!