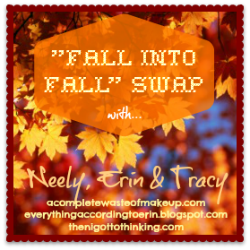 Another swap :) Can ya tell I love these things?! This time, the swap was a "Fall Into Fall" swap that Neely from A Complete Waste of Makeup, Erin from Everything According to Erin, and Tracy from Then I Got To Thinking hosted! The goal was to send some things that remind you of fall to your swap partner.
Well, I was paired up with Nicole from The Southbay Newlyweds Plus One. And before I continue, you should probably go check out her blog AND her abso-freaking-lutely adorable baby boy, Andrew. Anyway, she found out what I liked and man, did she do good! We all know I love crafts (Monday Made It, anyone?) and that I love cards/stationary/etc.
So, Nicole got me a Days-To-Remember Calendar where I put in my own months and days with either stamps, stickers, etc. to remember days like birthdays, anniversaries, holidays, and other important dates! How cool is that? Along with that, she got me some stickers - not sure if this is what she intended them for, but each sticker is going to represent something in the calendar (blue = birthdays, yellow = anniversaries, etc.). I LOVE THIS, NICOLE!
Then, she also got me a Michaels gift card (YES!), a pack of Halloween cards, Bath & Body Works nail files (which has a glare.. I apologize), a hand sanitizer rubber thing to hold my hand sanitizers from Bath & Body, and a cute card. In that card, she gave me a little note to let me go buy my own hand sanitizer because she was not sure how it would ship! Nicole, I love your creativity :)
And that's my Fall Into Fall Swap with the fantastic hosts and an amazing swap partner! Nicole, you did an amazing job and I absolutely love EVERYTHING you got for me. You knew me like the back of your hand and I surely hope you liked what I got you! In order to see what I got Nicole, head on over to her blog to check it out :)
Like I've said on all my other posts, if you EVER get the chance to do a swap (no matter what kind), DO IT. You never know who you will meet, nor do you know what you will get. It's all a surprise, and I absolutely love it!
Have a good day, y'all!