{Click the picture above to be taken to the linky!}
Have I ever told y'all how much I love the blogging community? No? Well, I LOVE IT. There are some amazing people out there with some awesome ideas. There's another Boo type linky floating around the bloggy world that I was "tagged" in by the lovely Julia from
Lattes & Laughter
. She is one of the sweetest out there, too! Make sure you head on over to her blog & leave her some love... I promise you'll love her & her blog just as much as I do!
The rules of the game go as follows:
Choose a fellow blogger that has
MORE
followers than you, choose a fellow blogger that has about the
SAME
followers as you, and choose a fellow blogger that has
LESS
followers than you. Once you have done that, make sure to leave them some "treats" by offering them something from your store.
So, here's my three :)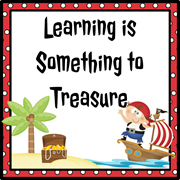 Lisa blogs over at
Learning is Something to Treasure
and has the CUTEST pirate themed blog. I dunno how many times I've said this but Lisa is my self-appointed mentor. She has been a HUGE help to me in this blogging journey and I am so happy to have met her. Lisa has some of the best resources for teachers in her
TPT store
. For instance, take her
Kids of Character pack
. What a great pack to teach the different characteristics of great people. She's also created two relatively new resources called
Creepy Crawly Spiders: A Common Core Aligned Unit on Spiders
and her
Going Batty: A Common Core Aligned Math and Literacy Unit
. Now, I know Halloween is coming up and the kiddos are getting excited... but these are two GREAT units to tie in with the holidays that are educational yet fun. Lisa is an amazing woman so make sure you check out both her blog & her TPT store. You'll love her as much as I do!

Katie & Lisen blog over at
Second Grade Smartypants
. These gals have been there for me since I first started and I absolutely ADORE them. They are amazing supporters, great friends, and have fantastic resources for teachers. Make sure to check out their
TPT store
, ESPECIALLY their
Writing Journal for the Year pack
,
Inference Island pack
, and the Spooky Halloween
Math Centers
and
Literacy Centers
. These are just a few of my favs. Make sure you check ALL of their resources out and their blog :)
Maria & Em blog over at
Curious Firsties
. I actually got to meet these two FANTASTIC ladies at the Ohio Blogger Meet-Up. They are two of the sweetest girls and I am so, so happy to have been able to be connected to them. Maria & Em are working on getting a TPT store started, but just because they don't have one doesn't mean they don't have some AMAZING resources. Take their
Small Moments Rubric
for example. What a fantastic resource when working on writing. They also have a
Creations freebie
to give students a chance to focus on their future work. Finally, they've created something to work on labeling pigs for the book Olivia. Check that out
here
. These gals have MUCH more on their blog, so make sure you stop by & say hello to these fantastic ladies!
Ladies - all five of you PLEASE go to my TPT store & let me know what you'd love to have and I'll send it on your way! Love you all to pieces!!
Have a good day, y'all!