First off, I want to thank
Brian over at Hopkins' Hoppin' Happenings
for promoting the crud outta my products and my blog. This man has been one of my biggest supporter besides my momma and my family. He's constantly there when I need him, he listens to me complain, and he's become one of my bloggy BFFs. Beyond that, Brian makes AMAZING products. He puts his heart & soul into all his products and he truly makes everything for the STUDENTS to enjoy. He's got fun games, lots of freebies, and just truly cares about what he does. Please, do me a favor, go stop by his blog & say hello. You will NOT regret meeting this man. He's been a true friend and I am
so thankful
to have met him.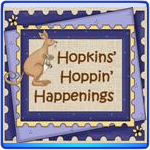 Beyond that, I've been busy busy busy with school and with creating products for my TPT store. So, I wanted to go ahead and do my plug here :) Please check out the things I've got in my
store
- if there's anything I can do for ya, please let me know!
I created this Pumpkin Parts of Speech Sorting Game for the classroom. The objective is that students sort the pumpkins under the proper ghost, each of which are labeled with specific parts of speech (noun, verb, & adjective). Once students sort the pumpkins under the correct ghost, they then can complete the worksheet at the end. This is just a "sorting sheet" where they write all the words they found under the correct column, giving them more practice.
There are a total of 12 nouns, 12 verbs, and 12 adjectives. This is a quick little activity that can be done in the literacy center or after work has been completed and you need an activity to hold students over until you start the next activity. You could also use this for an assessment to see if students understand the differences between the types of speech.
This pack is listed in my store for $1.50. You can't beat that!
Second, I created these Fall Themed Sentence Builders for the classroom! I absolutely LOVE the way they turned out. In the pack, the pumpkins represent nouns, ghosts represent verbs, and the leaves represent adjectives. This is a simple starting out activity to get students to include all three parts of speech in their sentences.
What students do is take one of each object (pumpkin, ghost, leaf) and then set them out in front of them. Then, they look at what they picked. For example, below are what I chose out of the pile for this sentence.
So, I would need to make a sentence with AT LEAST these words in it. Of course, you can change the verb to whatever tense you would like, but here's the sentence I came up with:
The tall, tall tree shook its branches while I stood below and caught every single apple before it hit the ground.
Then, at the top of my sheet, I would draw a picture to represent my sentence. This is a great activity to get students to practice their writing skills and a way to get them to include different parts of speech in their sentences.
Basically, a great way to have students extend their sentences to add more detail!
This pack is listed in my store for $2.00. Included is a sheet for your students with lined paper, a spot for a picture, as well as the cards. There are 36 nouns, 36 verbs, and 36 adjectives - the possibilities are nearly endless! You can't beat that!
Finally, my
Wanted Poster Freebie
has been flyin' off the wall! It's floating around Pinterest and I'm like a proud momma! So, I took the advice of my close friend, Brian, and created a graphic organizer pack for the classroom. Included in this pack is a whopping
TWENTY-TWO
different types of graphic organizers for the classroom.
There are some with beginning, middle, and end, a Venn-diagram, cause and effect, flow charts, and so on! I made them with the Wanted Poster in mind, making sure to create a variety of graphic organizers. I plan to add more as time goes on per the requests/comments/feedback from those who purchase. I sincerely hope that you all can use them in your classrooms.
This pack is listed in my store for $5.00. That's roughly 23 cents per organizer. Not even a quarter!! Now, you REALLY can't beat that!
That's all I've got for ya. I hope you all are liking the products I come up with! Please let me know if there's anything you would like for me to make.
I LOVE LOVE LOVE requests!
Oh yeah, tomorrow is our
OHIO BLOGGER MEET-UP
! I am super excited and cannot wait to meet all the fantastic people attending.
OH. PS. If you've made it down to here, the first THREE PEOPLE to leave your name, a nice little comment, and your e-mail address, I'll send you the Pumpkin Sort & Fall Themed Sentence Builders for following my blog. :)
Have a good day, y'all!